The Active Learning Solutions (ALS) System jointly developed by ASTRI and Active Learning Solutions Ltd won a Gold Award in the Best Lifestyle (Learning and Living) category. ALS is a control system for managing e-learning activities and devices in classroom with an aim to improve teaching efficiency and effectiveness. The technology has already been adopted by HKT Education Limited in its eLearning Solution launched in market last year.
The eLearning Solution of HKT
e
ducation, incorporating the ALS System, supports teacher-student interaction, peer interaction, collaborative works and sharing of ideas, all of which are essential to student development.
The solution empowers teachers to manage classes effectively. Using a Smart Data Distribution method, it ensures fast delivery and display of e-Content, including audio and visual materials for all students across their tablet computers. Furthermore, the solution has adopted a student-centric design, with Activity Apps providing in-syllabus contents that are based upon efficacious pedagogies. Such design not only stimulates students' interest in learning, but also enhances their engagement by encouraging interaction and collaboration.
With the high-speed fiber network, cloud storage and WiFi technology, HKT 
e
ducation eLearning Solution helps pre-class preparation, in-class management, students' file management, post-class assessment and reporting. HKT
e
ducation provides the most comprehensive one-stop e-learning solution which makes teacher's pre-class preparation and post-class student assessment much easier and effective.
The eLearning Solution has fascinated many schools since it was launched. Ms Chan Cheuk-lin, Principal of Po Leung Kuk Chee Jing Yin Primary School, said, "What impresses me most is the synchronization feature. The moment a teacher sends out teaching material, all students get it at the same time so they can interact and use their devices for group activities. I believe learning can only get more exciting." It is now getting more and more schools to commit and apply the solution at their schools.
ASTRI CEO Dr Cheung Nim-kwan said, "It is very encouraging to see that ASTRI technologies are so well received by our partners. The accolades we have received in this competition will no doubt spur our research teams to develop additional innovative technologies for the market and applicable solutions to further improve our quality of life."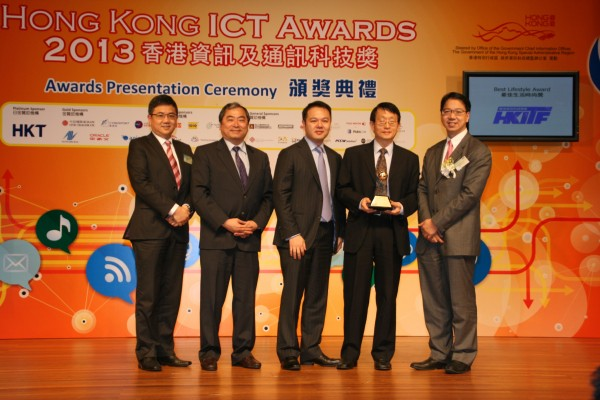 Representatives from ASTRI, ALS and HKT Education Limited receiving a gold award at the ceremony with the Active Learning Solutions they put in market