Co-Learning Space
Education in the 21st Century seeks to nurture team spirit, creativity and communication skills, as well as a sense of responsibility among students – all to help them develop into modern citizens able to compete in a challenging world.
A new way of learning concentrates on aspects such as collaboration, exploration, experience and application, calling for a focus on technology and imparting wide-ranging knowledge.
Studies have proved that the very environment in which we educate young people has a direct bearing on the results of an instutition's teaching efforts. Co-Learning Space from HKT education (HKTE) is based on a modern classroom-design concept that promotes collaboration, learning, exploring and sharing.
One-stop solutions
HKTE is well known for promoting eLearning, STEM education and other one-stop solutions that include training for teachers and supplying school equipment.
Our skilled team seeks to create an innovative and interactive environment and does so via an onsite presence in order to discuss how our Co-Learning Space approach can better serve a school. The next step is to craft a customized solution. HKTE co-ordinates with interior designers and incorporates technological teaching methods and artistic design when tailoring Co-Learning Space to suit an individual institution. We also help schools apply for government funding, while providing all-round technical support.
Co-Learning Space objectives
Engender
team spirit
among students

Nurture problem-solving and other practical skills

Promote
self-learning

Foster a student-centric approach to teaching and learning methods

Create a multi-purpose learning environment
Case study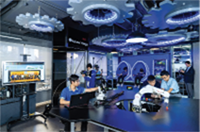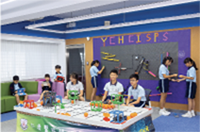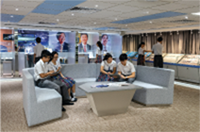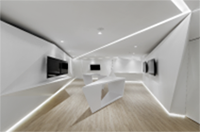 Lam Tai Fai College
YCH Chan Lu Seng
Primary School
CUHKFAA Chan Chun Ha
Secondary School
Lok Sin Tong Yu Kan Hing
Secondary School

After

Design objectives and features

HKTE's Co-Learning Space now functions as part of the computer room at St. John The Baptist Catholic Primary School in order to enhance the way IT and applied sciences are taught. Adopting nature as a theme, Co-Learning Space uses environment-friendly materials alongside advanced equipment. The comfortable habitat and ambience created is conducive to an interactive teaching approach that involves scientific research and other pursuits. The Co-Learning Space created for St. John's has also been equipped with a multimedia sharing system so students can share their creativity in real time and learn with their peers.

Co-Learning Space teaching equipment and facilities

Real-time multimedia sharing platform

Virtual reality (VR)

eLearning system

STEM teaching tools

Design objectives and features

HKTE's Co-Learning Space integrated 21st Century education concept and STEM elements at Kwong Ming Ying Loi School. The Activity-base room setting ensure a higher degree of flexibility in preparing classroom activities which applying the student-centric concept. The comfortable habitat and ambience created is conducive to an interactive teaching approach that involves scientific research and other pursuits. The Co-Learning Space created for Kwong Ming Ying Loi School's has also been equipped with interactive whiteboard so students can present their project and feedback in real time with their peers.

Co-Learning Space teaching equipment and facilities

Interactive whiteboard

Virtual reality (VR)

eLearning system

STEM teaching tools
* HKT education Co-Learning Space schools, in no specific order
Kowloon Women's Welfare Club Li Ping Memorial School
YCH Chan Lu Seng Primary School
PLK Dr. Jimmy Wong Chi-Ho (Tin Sum Valley) Primary School
Kwong Ming Ying Loi School
Pui Kiu College
Tai Po Methodist School
Tai Kok Tsui Catholic Primary School (Hoi Fan Road)
Yaumati Catholic Primary School
Shanghai Alumni Primary School
Maryknoll Convent School (Primary Section)
Sau Mau Ping Catholic Primary School
St Paul's Co-education College PS
SKH Fung Kei Primary School
St. Anthony's School
St. John the Baptist Catholic Primary School
Tsuen Wan Trade Association PS
Shun Tak Fraternal Association Leung Kit Wah Primary School
HKTA Shun Yeung Primary School
ELCHK MA ON SHAN LUTHERAN PRIMARY SCHOOL
Yu Chun Keung Memorial College, No.2
SPHRC Kung Yik She Secondary School
The Yuen Yuen Institute MFBM Nei Ming Chan Lui Chung Tak Memorial College
ECF Saint Too Canaan College
Christian Alliance Cheng Wing Gee College
St. Teresa Secondary School
Caritas Ma On Shan Secondary School
TWGHs Yau Tsz Tin Memorial College
TWGHs Yow Kam Yuen College
Lam Tai Fai College
Lok Sin Tong Yu Kan Hing Secondary School
United Christian College (Kowloon East)
Fukien Secondary School Affiliated School
Carmel Alison Lam Foundation Secondary School
Chinese YMCA College
CUHKFAA Chan Chun Ha Secondary School
SOCIETY OF BOYS' CENTRES HUI CHUNG SING